Evolution Racewerks '14-UP BMW N55 F15 F16 X5 X6 | '15-UP F10 535i F06 F12 F13 640i Competition Series 4" Catless Downpipe
---
Price with options x Qty: $535.50
---
2014-UP BMW N55 F15 F16 X5 X6 sDrive35i xDrive35i
2015-UP F10 535i
2015-UP F06 F12 F13 640i
Turbo Competition Series 4" Catless Downpipe
** For 2015 F10/F06/F12/F13, please provide us with the last 7 of your VIN for fitment confirmation **
BM-EXH016
This is for CATLESS version, if you're looking for CATTED version, please click here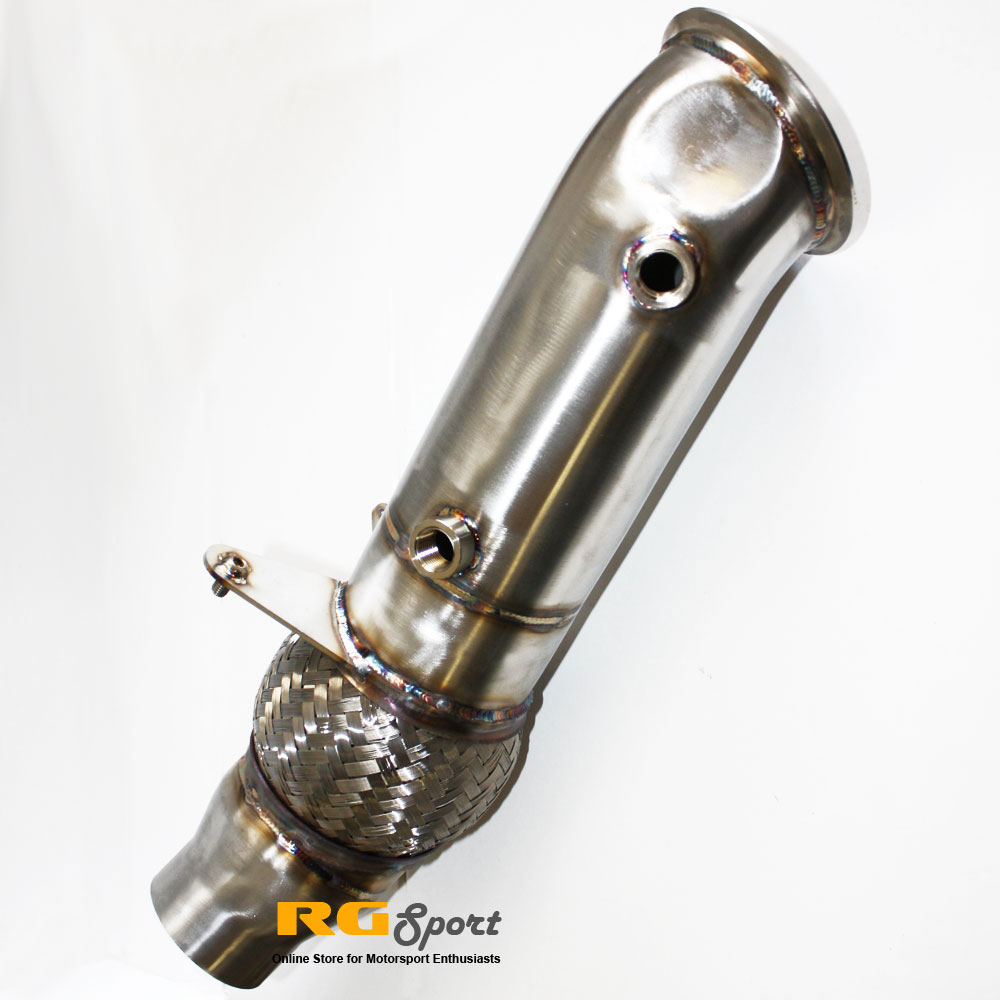 Competition Series 4" Downpipes for your N55 turbo engine!
FITS:
- BMW 2014+ F15/F16 X5/X6 N55 sDrive35i/xDrive35i
- BMW 2015+ F06/F12/F13 LCI N55 640i
- BMW 2015+ F10 LCI N55 535i
CAUTION: This product is intended for OFF ROAD COMPETITION USE ONLY. Not legal for use on pollution controlled vehicles upon public road/highways. THIS PRODUCT IS FOR SALE FOR ALL 49 STATES EXCLUDING CALIFORNIA. In addition to vehicle use verification, a Vehicle Compliance Waiver needs to be signed.
THIS ITEM IS NOT FOR SALE, INSTALLATION, OR USE ON LICENSED VEHILES IN THE STATE OF CALIFORNIA.
The item is for sale for international customers without restriction.
Key Features:
Better throttle response and faster turbo spool up times.

Mandrel Bent 4" piping. Smooth transition to the exhaust system.

100% Stainless Steel Construction

Stainless Steel Flex Section

100% TIG welded for better quality welds

Precision CNC machined turbocharger V-Band flange.

Brush Finish (standard) or optional Polish Finish

Available with high temperature Black Thermal Coating to reduce underhood temperatures.

Optional - Additional O2 sensor bung for wideband O2 sensors (comes with pre-installed plug)

Optional EGT sensor bung for EGT gauges (comes with pre-installed plug)

Compatible with the factory or aftermarket exhaust systems.

Track tested durability.

Includes all hardware for complete installation.
Brush Finish Shown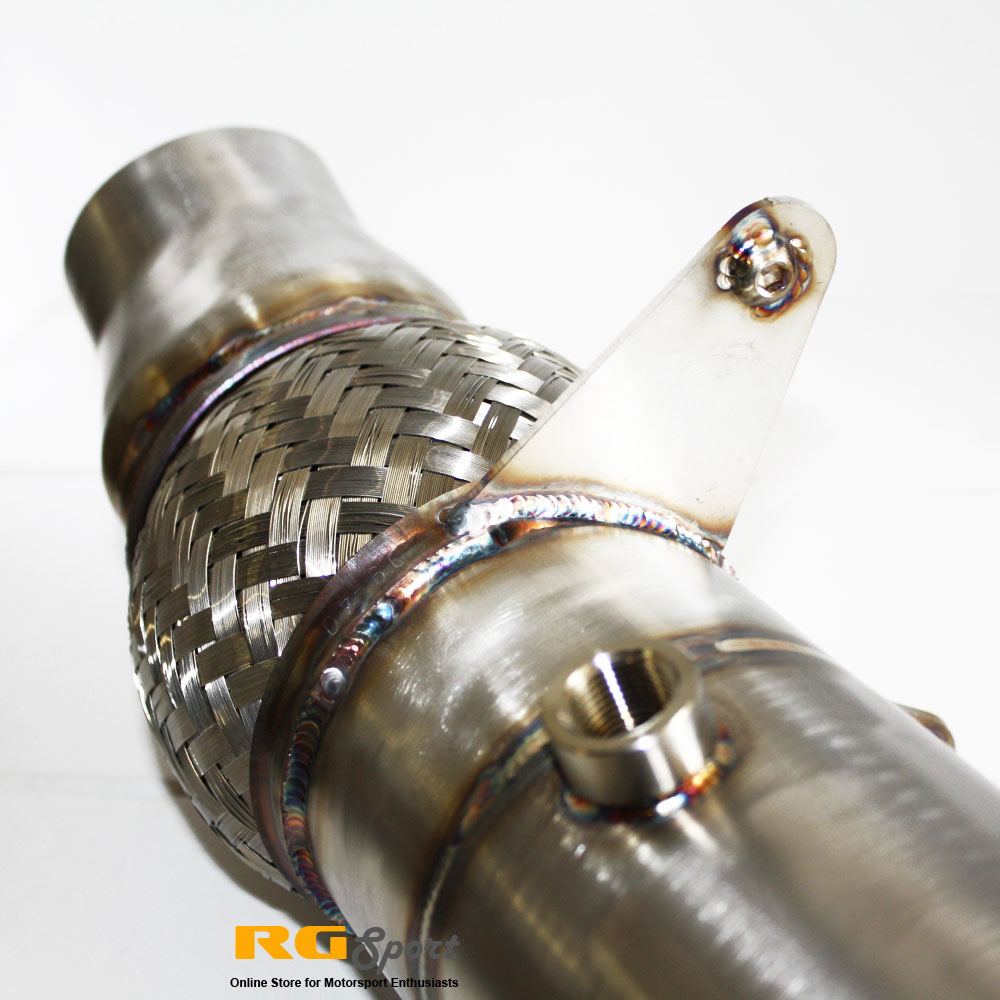 Restrictions in the exhaust system robs horsepower and torque especially on turbocharged cars. Thus, removing as much exhaust flow restrictions will increase horsepower and torque significantly. The factory catalytic converter found in the factory downpipe is a big culprit of this and is a major exhaust flow restriction. The factory catalytic converter is made up of catalyst material formed into "honeycomb" weaves. Exhaust gas must pass through these tiny "honeycomb" weaves on their way to the exhaust system thus causing a major exhaust flow restriction. It also causes turbulence after the catalytic converter which causes the exhaust flow to slow down (which increases restriction). By replacing the factory downpipe/catalytic converter with our Competition Series 4" Catless Downpipe, more power is unleashed!
Our Competition Series Catless Downpipes is constructed out of 100% 304 grade stainless steel and utilize mandrel bent piping. They are 100% TIG welded by our in house fabricators and built in the USA. The factory turbocharger turbine housing utilizes a 3.5" V-Band flange which we have duplicated and CNC machined cut out of billet 304 stainless steel. Stainless Steel CNC machined O2 sensor and laser cut brackets are TIG welded using stainless steel rods. From the factory turbo outlet of 3.5", our downpipe expands to a full 4" Piping. Due to space needed for the cataylic converter, the factory downpipes reduce in size using very short transitions. Since our catless downpipes delete the cataylic converter, we have more space. Thus, we use very long transitions. These longer transitions allow the exhaust gas time to smoothly transition from the larger piping to the smaller. This results in less exhaust turbulence and backpressure which again improves throttle response and increase turbocharger spool times (less turbocharger lag).
The factory downpipe utilizes a flex bellow section that allows the exhaust system to move. This eliminates undue stress on the exhaust components like the exhaust system, downpipe, turbocharger and exhaust manifold. Many of our competitors do not feel it is important to keep this. While you do not see any adverse affects right away, over time, the stresses caused by not having a flex section and having a rigid exhaust system will cause premature wear and tear. Any stress failures like cracks will form quicker than usual on exhaust manifolds and exhaust components. Also, without a flex section, the exhaust system cannot properly deflect impact. Especially on lowered cars, whenever the exhaust system contacts the ground, the entire system gets pushed up. Without a flex, you can imagine how much stress is put into exhaust components like the exhaust manifold/turbocharger when the exhaust is pushed upwards. We fully understand that durability of our products is important. Thus, like BMW, we incorporate a flex section into our downpipe. Our flex sections are 100% stainless steel (cheap flex sections only have stainless steel center braids and steel caps) to ensure corrosion resistance.
Video of Dyno session #2
- Evolution Racewerks / ER Catless Downpipe is installed for this session.
The gain between stock downpipe and catless downpipe is 36hp and 29tq at the wheel.